Sarah Beaumont is our Head of UK HR. We asked her to name five things that changed her life – here's what she said:
1. Travel
For me, travelling is all about those new experiences and trying different things. In my early 20s I went on a safari in Kenya and got up early to watch the sunrise over the plain. Whilst sitting by the edge of a cliff, I watched a lioness and her cub below make their way to the watering hole. I sat in complete silence in awe of what I was seeing and vowed then to make travel a large part of my life.
I've been extremely lucky in that I've watched the sun rise over Angkor Wat, seen orangutans in Borneo, been white water rafting in the Canadian Rockies, ziplined over the Cloud Forest in Costa Rica, and not to mention I've face planted the snow in the French Alps!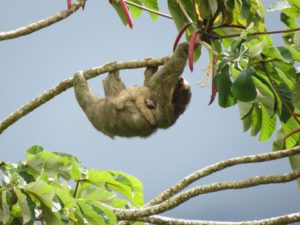 Image above: Sarah's favourite photo she took whilst in Costa Rica
2. My other half
One of my life defining moments was when I met my husband. We've been married now for, well, let's just say quite a few years!
He is the person who not only supports me, but also challenges me the most. He probably knows me better than anyone else, and whilst it infuriates me when he tells me things about myself that I don't want to hear; I'm a better person for it. Well, when I actually decide to listen to him, that is!
3. My first HR leader role
I was asked to cover a maternity role by two senior HR leaders who I both liked and respected a lot. Having been persuaded it was a good match, I found I loved it. I was led by, and worked alongside, some phenomenal HR managers. I learned so much and in those early years absolutely loved going to work.
When the maternity leave cover finished, I was offered the role permanently as the lady on maternity leave decided to come back to a different role. In fact, we ended up working together – which was great. As a team we are all still in touch and they're among the first group of people I go to when looking for sound advice. I will definitely work with them again in some capacity or other, I'll make sure of it.
4. Redundancy
Back in early 2017 the HR team I was part of was put at risk of redundancy. I decided to volunteer, using the opportunity to take some time out, travel and re-evaluate my career. This wasn't an easy decision and there were many times when I thought "what have I done".
But, fast-forward a few months and I was asked to support the Hunter 100 team at Hunter Adams. Following that, Hunter Adams approached me about an opportunity to undertake a 12 month contract with a company based in Palma, Majorca.
Looking back if I hadn't taken voluntary redundancy then I wouldn't have been in the position to be driving through France with a husband, two dogs, two bikes, a set of golf clubs and our clothes on the way to the sun! As an added bonus, at the end of the contract, I got in touch with Hunter Adams to start looking for a new role, and was interviewed for then offered their internal Head of HR Delivery UK role.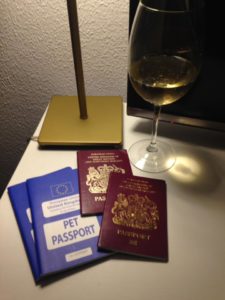 Image above: The first photo Sarah took when she arrived in Mallorca
5. Hashing
For many years exercise was a dirty word to me. However, back in early 2000, a good friend talked me into going hashing. Intrigued, but also apprehensive, I set off early one Saturday morning to the middle of Hampshire.
For those that don't know about hashing, you follow a trail laid using flour by one of the group by either running, jogging or walking around some beautiful countryside. I went from not being able to jog for a minute to being able to run relatively well, all by being distracted by the countryside and by chatting to new people from all walks of life.
Never thinking I'd do one, my 'delightful' husband (!) signed me up for Manchester Marathon in 2017. The training was hard but the feeling of running (or in my case, hobbling) over the finish line was indescribable. It proved to me that saying yes to any opportunity that is presented to you can give you experiences you would never have otherwise had.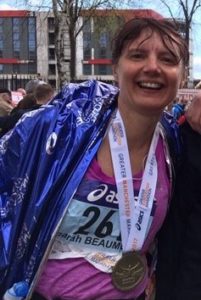 Image above: Sarah at the finish line after completing Manchester Marathon in 2017