Katrina Spence is our Head of Commercial. We asked her to name five things that changed her life – here's what she said:
1. Having my son
As I expect will be the same for most people who've had children, becoming a parent seven years ago to my son Lewis was a pivotal moment in my life. Having someone completely dependent on me changed my outlook, and the feeling of that fierce, unconditional love is just incredible. Lewis and I have so much fun together and it has amazed me watching his little personality develop over the years.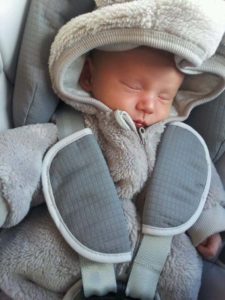 Image above: Katrina's son Lewis at a week old on his way home from hospital
2. Redundancy
Early on in my career I took voluntary redundancy from a job in the oil and gas sector in Aberdeen. Whilst pretty tough at the time, it gave me the push I needed to spread my wings and do something a bit out of my comfort zone. So I decided to move to Edinburgh where my brother was staying at the time. Other than him, I didn't know anyone in Edinburgh but I put myself out there and got a job, my own place and a new network of friends. I even met my (now) husband, Murray – so it was definitely a good move for me! I also think moving away from the oil and gas sector was good for my career, broadening my experience and opening up some new avenues.
3. Being promoted to the Hunter Adams leadership team
Shortly after joining the team at Hunter Adams I was promoted to the leadership team, something I'm still very proud of. Being recognised and valued in this way is a wonderful feeling, and it only strengthened the enthusiasm and dedication for the company that I already had.
4. Running 50 miles in four weeks
During summertime last year, I went from being a non-runner (literally!) to clocking up 50 miles in the space of four weeks. I was always convinced that running wasn't for me but I decided to give it a go and was amazed at what I was able to achieve with a bit of mind over matter mentality. Listening to some good running music helps too!  My longest run during that period was 11K which I don't think is bad at all. I have to admit that with the bad weather and the darker nights my enthusiasm has waned ever so slightly; but when springtime comes around I'll definitely be getting back into it – at least now I know I can!
5. Strong female role models
Having come from a family of strong women has certainly shaped the person I am today and had a great influence on me.  From a grandmother and great aunt who ran a hotel alongside my grandfather, to my other grandmother who was a nurse; they showed me how strong women can be and what they can achieve.  My mother is also a great inspiration to me as she juggled working with being a mum to three of us as well as being there to support my dad. She's certainly a role model I look up to every day. Years ago my dad actually wrote an article for the local paper praising my mum for all her support while he studied for his Open University degree.